Womens Savings And Loan Scheme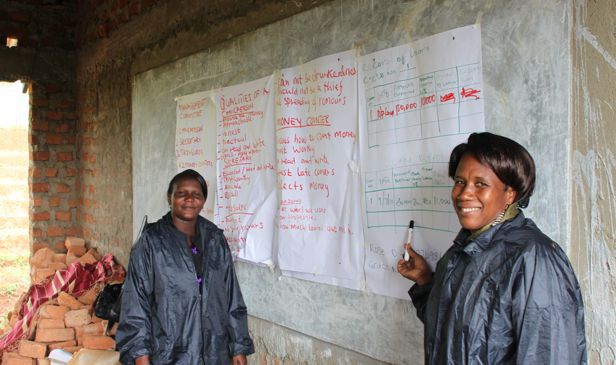 In the rural village communities in Uganda, women can be very marginalised, they have little or no status, despite being responsible for most of the day to day chores, childcare, even production of food if they have their own small garden. Their husbands usually take full control of what little money is available and often misuse it. Therefore, the women are frequently left literally scratching at the earth in an attempt to provide food for their families. Their lives can be unmitigated drudgery, they have very little sense of self-worth and no hope that things will improve. However, if empowered to work together and really take control of their own lives, they can make very rapid improvements to the benefit of themselves, the rest of their group and their community as a whole.
This project works by the women members of the group regularly saving whatever money they can. Usually, the amounts they save are tiny by Western standards – each deposit may be just 10p – 50p; but experience shows that where these groups are set up, each week they faithfully bring whatever they have and save it in the group. These groups are entirely self-governing and self-administered, which proves more effective than if run by an outside source.
When the sums have grown sufficiently they are able to borrow from the pot for clearly laid down and collectively agreed purposes. They borrow at a small rate of interest and all interest comes back to the group. They run the whole thing themselves and nothing is ever taken from the pot except by agreement between themselves.
Once a group is really established and well supported, it enables them to pursue income generating plans beyond the simple savings and loans interest element, one group in the Wanale area has purchased 3 cows which gives a longer term sustainable income method.
The scheme runs in 12 month blocks; at the end of each scheme's term the profits are distributed amongst the group members according to their input, this source of income enables mothers to ensure that there are sufficient funds to pay for their children to attend school which otherwise uniform and school book costs would prohibit. It also supplements the family income generally, but importantly is solely controlled by the mother.
Within the groups' constitution are well defined and agreed rules and regulations, it also allows them to make 'Social' awards (grants effectively) in certain circumstances, e.g in event of a family death, health issues, problems with housing etc…
Evergreen has funded the establishment of several initiatives in the rural area of Wanale beyond the outskirts of Mbale – Uganda's fourth largest conurbation. The set-up is handled very sensitively with on-going training and support by local specialists in that field. Experience shows that the transformation caused by such a project is remarkable.