Wanale Goat Project 2015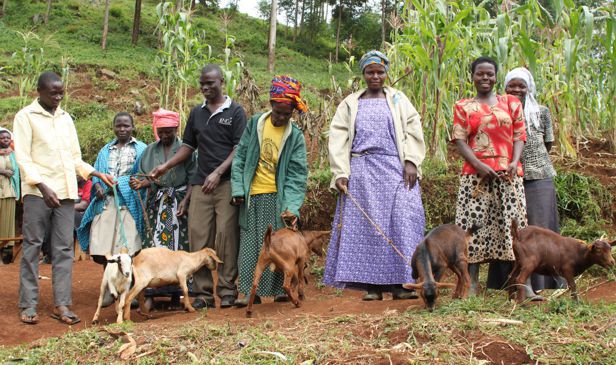 There are a large number of widows and orphans in the East of Uganda due to being displaced from the conflict(s) in the North of the country which claimed the lives of a lot of the men; as you may have already read in this website, women have little or no status in their local communities and are left with no means of support, for either themselves and or any children they may have, whether their own or 'adopted'.
This project is specifically aimed at relieving the plight of widows and orphan-headed families; the concept being to train a selected beneficiary in the care and husbandry of goats (recognize/treat minor ailments, correctly feed etc) - beneficiaries are identified as being in need of assistance by the Elders in their own community.
Once trained, the beneficiary is given a female goat, and after proving that they are properly capable of looking it, the female goat is initially allowed to breed with an approved project-owned 'Buck' - these Toggenberg buck goats are especially chosen for their hardy constitution, excellent breeding abilities and when crossed with the local breed goats produce sturdy offspring with special suitability for the mountain environment of Wanale.
The scheme aim is that the resultant kids produced by the female goats sustain the family, either because they produce male goats which can be sold on or used for meat, whilst any female kids can be used to produce milk/dairy products, and also be used for breeding themselves, with the stipulation that the 3rd female kid produced must be returned to the project to be passed on to another person/family in need, thereby ensuring sustainability at little cost.
A perfect example of how the project is quite literally life-changing is that of Zelezebiya – she is an elderly widow, whose daughter (and mother of her 5 grand-children) was herself widowed, she re-married and as is not uncommon in this society the new husband was not willing to take on the children of the previous marriage. This left Zelezebiya solely responsible for them, with no means of support; being presented with a goat from the project really was a life-line for her, it not only provides milk and food in the short-term but also a source of income longer-term which will enable her to send the children to school. She told Evergreen that she cannot adequately express how thankful she is for this gift, a small sum for us, the whole world to her and her grand-children. There are pictures accompanying this, but they do not truly convey her joy and thanks, or indeed her wishes for many blessings on Evergreen…